Breast  revision and augmentation, Dallas, TX*
Procedure Details
A neopectoral technique was used to create a new space for the implant such that the prominence of the implant will be over the central part of the breast. Appropriate muscle release was also done to facilitate this. Note the full correction in the post-operative photos which show good symmetry, pleasing contours and lack of excessive upper chest fullness. Her initial implants were 275 cc right side and 250 cc left side classic profile, round, Mentor silicone gel implants. At the revision, implants were changed to 300 cc right and 275 cc left moderate plus profile, Mentor silicone gel implants. Implants were placed in the position under the muscle. She was very pleased with the outcome.
More
Front view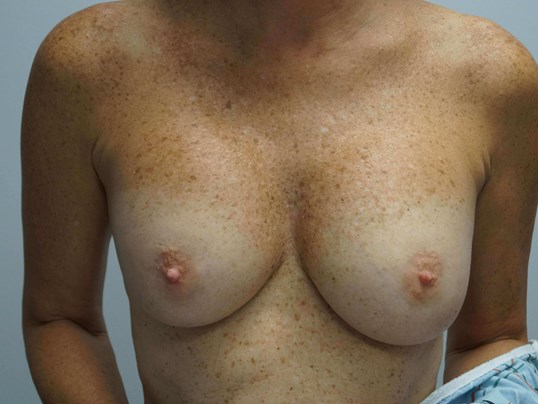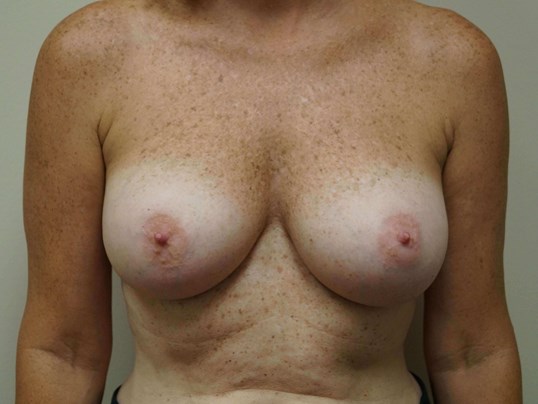 57 year old woman who underwent a breast augmentation with another surgeon and was very unhappy with the result. Before photos show a high riding implant, significant asymmetry between the sides and fullness over the upper pole of the breast without any projection of the nipple area/central breast. More
What is a Neopectoral technique?
This is relatively newer technique of breast implant revision. Traditionally the implant was placed in the same space as before after some modifications. However, if the space was too big, too high etc, there was no way to make it smaller in a predictable fashion. Sutures could be used to narrow the space but it was not ideal.
With the neopectoral technique, a new space is made immediately on top of the old scar tissue; the new space is made in previously undisturbed breast tissue and can be made to any dimension irrespective of how large/small the old space was.
Location